The Real-Time Passenger Information System (RTPIS) is a complex solution for which the most important task is to provide passengers with real-time information about the current status of public transport.
Thanks to the real-time passenger information system, you can plan your journey quickly and comfortably or… change your itinerary based on information about delays, weather alerts, or canceled courses. The system eliminates sources of frustration for travellers who nervously wait for their vehicle at the stop.
How does the RTPIS work?
The Real-Time Passenger Information System collects and processes non-stop all vehicle and obstruction data in real-time. It calculates the arrival time of each tram and bus in motion, for all stops independently, presenting information to travellers on installed stop displays, in-vehicle displays, smartphones, and computers. Visual passenger information is most often complemented by voice information (PA – Public Address System), systems to support people with disabilities, and monitoring to increase safety at stops.
Real-Time Passenger Information Systems, sometimes known as Dynamic Passenger Information Systems (DPIS) or just Passenger Information Systems (PIS), typically consist of multiple groups of components, such as:
• Data collection systems – are used to collect information on the movement of vehicles, such as GPS position, speed, time of arrival at the next stops, etc. These systems can be installed directly on vehicles or in transport management centres.
• Data processing systems – are used to analyse and process collected data, such as delay forecasts, network capacity assessments, calculations of optimal routes for vehicles, etc.
• Information display systems – are used to present information to passengers, such as arrival times, delays, route information, etc. These can be traditional LED displays, LCD displays, or touch screens.
• Interactive systems – are used to provide interactive functionality to passengers, such as route planning, ticket purchasing, payment, etc. These can be either desktop devices or mobile applications.
• Management systems – are used to manage the entire SDIP system, including configuration and monitoring of equipment, reporting and fault management, etc.
Better use of the vehicle fleet
The Dynamic Passenger Information System provides passengers with easy access to up-to-date public transport information, but also allows the public transport operator to effectively manage the transport network, improve the accuracy of arrival time forecasting and optimise vehicle utilisation.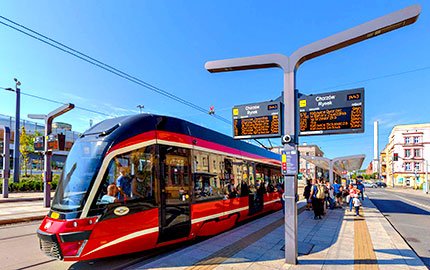 Elements making up the PIS
Passenger Information Systems (PIS) can vary significantly in terms of the equipment and solutions used, depending on the objectives of the transport operator, the project, the budget, and the location. Typically, a distinction can be made between:
Dynamic passenger information system displays in LED, LCD, or e-paper technology are installed at stations, interchanges, and stops with possible additional equipment such as function keys, TTS, SOS panels, or monitoring.
A passenger information website accessible via the web and smartphone and tablet apps that provide detailed, up-to-date data and allow you to plan your journey.
Management/processing centre equipped with high-powered computer systems and appropriate software with dispatcher workstations.
GPS locators in vehicles (buses, trams, trolleybuses) that provide the vehicle's current position and parameters for calculating its arrival time and any delays.
In-vehicle displays for travellers.
Public Address System (PA system).
Infokiosks that can display city information, tourist information, and advertising.
Ticket machines that allow travellers to pay their fares.
Passenger Information Display System (PIDS)
There are four main display technologies that DYSTEN uses to manufacture equipment for passenger information systems:
LED AMBER
RGB LED
TFT LCD
E-paper
RTPI boards (Real-Time Passenger Information System displays) are manufactured in single or double-sided versions. They can be pole-mounted, bracket-hung, or wall-mounted. Double-sided devices are often manufactured as the V-shape version with both matrices inclined towards travellers and have a characteristic 'V' shape viewed from the side. When comparing the different types of display devices, it is not worth referring to the experience of using home electronics – the boards use different solutions that allow them to operate 24 hours a day, 7 days a week.
Dynamic Passenger Information Displays at bus stops usually display the current time (on a built-in digital or analog clock), the line number, the direction of the bus line, the time of departure, any delays, and the alert baron the lowest line of the display. Main displays (at stations, and interchanges) additionally indicate the station or platform from which the departure will take place.
Amber LED / RGB LED Passenger Information Boards
In simple terms, it can be assumed that LED technology is the primary choice for DPIS solutions due to its durability, longest life cycle, low energy consumption and high brightness. Amber LED devices present information monochromatically in… amber. RGB LED boards use full-colour matrices, allowing text, symbols, animations to be displayed in any colour scheme. In each case, the size of the matrix, and consequently the resolution of the device, is selected according to the needs of the project. It is worth bearing in mind that the main PIDS board in a bus station displays collective information and should be much larger than the devices on platforms or stops. Current LED technology allows both very large displays to be built for the largest venues and small boards to be built for remote stops. The devices automatically reduce in brightness when darkness falls so as not to dazzle drivers.
TFT LCD Passenger Information Displays
TFT LCD technology provides better image detail than LED, but consumes many times more power and LCD matrices on average have a shorter lifespan than LED matrices. They also have a lower brightness, which limits readability in very bright environments (on summer sunny days, intense glare or direct sunlight can be a hindrance). Notwithstanding these drawbacks, it is a popular widely used technology.
On-board displays on trams and buses, indicating the route and the transport operator's information, are generally made using TFT LCD technology.
E-paper devices
Devices based on e-paper screens are champions of energy savings. They present a high-quality, detailed black and white image and are particularly well suited to locations where the traditional power grid is difficult to access. E-paper passenger information can be powered by green energy from solar panels. It is a future-proof and cost-effective device that provides good network scalability (easy, rapid expansion of the number of stops with passenger information). It can come in single screen versions of 13, 32, 42 inches or an enclosure with two or three 13-inch screens, optionally with function buttons. The use of e-paper passenger information in new projects competing for EU funding, as it is environmentally friendly and guarantees a reduction in energy consumption, increases the project's chances of success in the competition. The low carbon footprint is also an advantage of the technology.
We encourage you to review the article Selecting display technologies, which should help you make an initial assessment of the suitability of a particular technology for your project needs. It is worth bearing in mind that there are very many options related to the SDIP system, so the easiest way is to ask an expert for support, which will save you time.
LED/LCD display accessories
Passenger information boards in LED and LCD technologies can be equipped with additional functions:
High-resolution monitoring with a pole-mounted camera integrated on the board or with a hidden camera,
a TTS (Text to Speech) button, mounted independently or on the unit's pole, which, when pressed, reads out information from the display for the visually impaired or blind,
SOS panel, the activation of which opens a two-way audio connection with the dispatcher, crisis centre, emergency phone, or police.
Passenger portal and mobile apps
Travellers with Internet access can make their journey and plan easier by accessing the public web address of the Real-Time Passenger Information System or by installing the mobile application on an Android or iOS smartphone. The functionality of both solutions is the same, with the emphasis on a different interface due to the fact that smartphones have much smaller screens.
The search panel helps you to find a line or a stop. An expanded menu gives access to various options such as:
a stop selection,
searching for connections,
selecting a line name or number,
messages (delays, alerts, canceled courses).
The search engine usually includes a hint system and the map supports smooth zooming. The context-sensitive menu displays the line number, delay, next stops, real arrival time, and can suggest transfers and variant routes.
The management centre
Typically, an RTPI system requires high computing power, constant service, and IT supervision, a team of dispatchers and a well-thought-out operating scheme. Depending on the size of the system and the level of complexity, these will be elements that require detailed agreement.
PA System
The purpose of the PA system is to provide audible and intelligible voice information to travellers who are either on the move or cannot see the visual information on dynamic passenger information displays. This is quite a challenge, as there is a high level of traffic noise at stations, interchange centres and bus stops. The public address system consists of microphones, amplifiers, loudspeakers and control equipment.
Thanks to our experience in developing professional public address systems, the DYSTEN team is able to select the optimal audio solution for each location. Both simple solutions such as TTS (a button on a pole activating voice information) and complex systems based on digital amplifiers, controllers and microphone desks of our own design and dedicated transducers are possible.
Induction loops for hearing-impaired passengers
Announciation systems are usually extended to include induction loops for hearing-impaired passengers using hearing aids. An induction loop is a colloquial name for a hearing aid system with an inductophone loop. It allows hearing-impaired people to receive an intelligible, clear message via the telecoil that is fitted to every hearing aid. The European Association of the Hearing Impaired (EOFHOH) specifies that induction loops give the hearing-impaired person the most benefit of all hearing assistance systems.
The system consists of an induction loop amplifier and a wired installation. The alternating magnetic field inside the loop is picked up by the telecoil (T) of the traveller's hearing aid, transmitting clear, intelligible messages directly to the passenger's ear.
Info-kiosks and information totems
Info kiosks can be an extension of the passenger information available at a station, transfer centre or major stop. They can display urban, tourist, and advertising information. DYSTEN delivers info kiosks in TFT LCD technology and makes information totems in LED technology.
Ticket machines
Ticket machines allow passengers who do not use other electronic forms of payment such as online to purchase a ticket and pay their fare. There is still a fairly large group of people who do not make full use of the app or do not trust it enough to give them access to funds in their personal account when buying a ticket.
Flexible fitting
DYSTEN designs Dynamic Passenger Information Systems according to the ordering party's needs in any scope – from the production and delivery of systemic PIS boards, to the development, construction and commissioning of a complex solution (e.g. such as the PIS for the Upper Silesian-Zagłębów GZM Metropolis, which serves 1500 vehicles, 6700 stops and 2.3 million travellers). Various forms of cooperation are available and the scope of work depends on the assumptions developed during the technical dialogue.
Certifications and project procedures
Each PIS is tailor-made for the client: in line with the client's objectives, local circumstances and budget. DYSTEN carries out the agreed work based on designs and procedures in accordance with ISO 9001 and IRIS quality management systems (for rail projects).
Invitation to a dialogue
If you are considering solutions to improve the quality of public transport, such as RTPIS, now is the best time to take advantage of DYSTEN's expertise and more than 20 years of experience.
Given the continuous development of products, it is advisable to contact an expert to help work out the best solutions available:
International Sales Representative
Mobile +48 881 962 440