The MZK Transfer Center in Zielona Góra is a modern facility equipped with a system of dynamic passenger information boards in LED technology by DYSTEN. As one of the few in Poland, it has 200kW and 400kW chargers installed on the parking stands of electric buses, thanks to which these vehicles can cover the full route. Zielona Góra uses the most electric buses in the country, and as it is well known, the problem with all-electric vehicles is the limited range.
How does the Transfer Center in Zielona Góra work?
The Transfer Center of the Municipal Transport Company in Zielona Góra provides passengers with a safe transfer from train to bus or from one bus line to another using the door-to-door method. For this purpose, there are four platforms built, two with traffic in the opposite direction. On working days there are 922 bus routes – 20 daily lines and 3 night lines. Moving from the train to any bus does not require taking out the umbrella – all communication routes are covered (all pedestrian routes have a roof). The layout of the platforms enables the simultaneous departure of buses for 6 lines.
Aerial transfer center. Photo provided by the Municipal Transport Department in Zielona Góra
Real-time passenger information
A system of passenger information boards made in amber LED technology by DYSTEN operates 24 hours a day, 7 days a week. In the Customer Service Centre, where you can pay for a ticket or ask for any information related to the city, there are LCD displays. Two amber LED boards display 11 courses each, and six platform boards display 5 courses each. The range of information presented is typical: line number, direction, time to actual departure, current time (digital clock), and air temperature. In case of delays, the system provides the recalculated departure time. The last line of the table can display any alerts, but it is mostly used for typical odds information.
Many people used to paper timetables wondered why real-time dynamic passenger information is needed when everything is available on paper.
– Information boards are basic information for passengers. It is enough to look where the travelers are looking – whether at the paper timetable or at the boards. At the Transfer Center we will meet boards at every step, thanks to which we will quickly find the departure we are interested in – says Jacek Newelski, Transport Department Manager of the Municipal Transport Department in Zielona Góra. The real-time passenger information boards take into account all delays and connections that are canceled, presenting information on an ongoing basis on all displays.
The project was implemented in cooperation with TRAPEZE Poland.
Read about Dysten's implementation of a passenger information display system throughout Zielona Góra.
Equipment of the transfer center
There are two waiting rooms – heated and air-conditioned. They are also equipped with monitoring, and inside with passenger information displays, a ticket machine, vending machines with snacks and coffee, a room for drivers, and toilets. There is a multi-story bicycle stand for bicycle users and a car park for car users. In accordance with current trends, the role of cities is to create conditions so that drivers do not overload city centers with car traffic and learn to change to public transport. Of course, the condition for the success of the idea is a sufficiently dense network of connections and sufficient traveler comfort.


Photos provided by the Municipal Transport Department in Zielona Góra
Communication depression
The city overcame many difficulties to dramatically improve the operation of public transport in the city center at the cost of PLN 20 million, which the residents are clearly satisfied with. Previously, the area of the adjacent railway station and nearby bus stops was systematically flooded after each major rainfall. Transfers were very difficult after the rain. Two stops, between which travelers most often changed, were separated by almost 200 m. Some buses were at risk of being withdrawn from service due to exceeding emissions and general wear and tear standards.
Photos provided by the Municipal Transport Department in Zielona Góra
Connection diagram in Zielona Góra
Today, Zielona Góra has one transfer node, which guarantees passengers a connection with any place reached by public transport. Connections between all points can be made with a maximum of one change. The Transfer Center is located in the middle of a radial public transport system.
Below you can see a diagram of the public transport network in Zielona Góra, and the Transfer Center is marked in red.
Scheme of public transport in Zielona Góra – property of MZK Zielona Góra
Electrical transformation
The city is implementing an ambitious project with its MZK company: "An integrated system of low-emission public transport in Zielona Góra", co-financed by the European Union from the funds under the Infrastructure and Environment 2020 Programme. and redevelopment of the entire surroundings The project has changed a lot in Zielona Góra:
47 electric buses and 17 low-emission diesel buses compliant with the Euro 6 standard were purchased,
the modern transfer center was built, adapted to the needs of people with disabilities, and equipped with charging points for electric buses,
a complex passenger information system was created,
stands for 60 Bike&Ride bicycles and a car park were created,
the depot was rebuilt,
electric bus chargers were added at selected end stops to maintain the range of electric rolling stock in the months generating the highest loads (such as December),
[…] – We managed to complete one of the next stages of the most difficult project in the history. It concerns the reduction of exhaust emissions by buses. We have new ones, including over 40 electric ones. Most in Poland. The project is difficult because it is innovative and no one has ever realized it before. I will not mention the complications resulting from the construction. We are pioneers […] – Janusz Kubicki, the mayor of Zielona Góra, wrote on Facebook.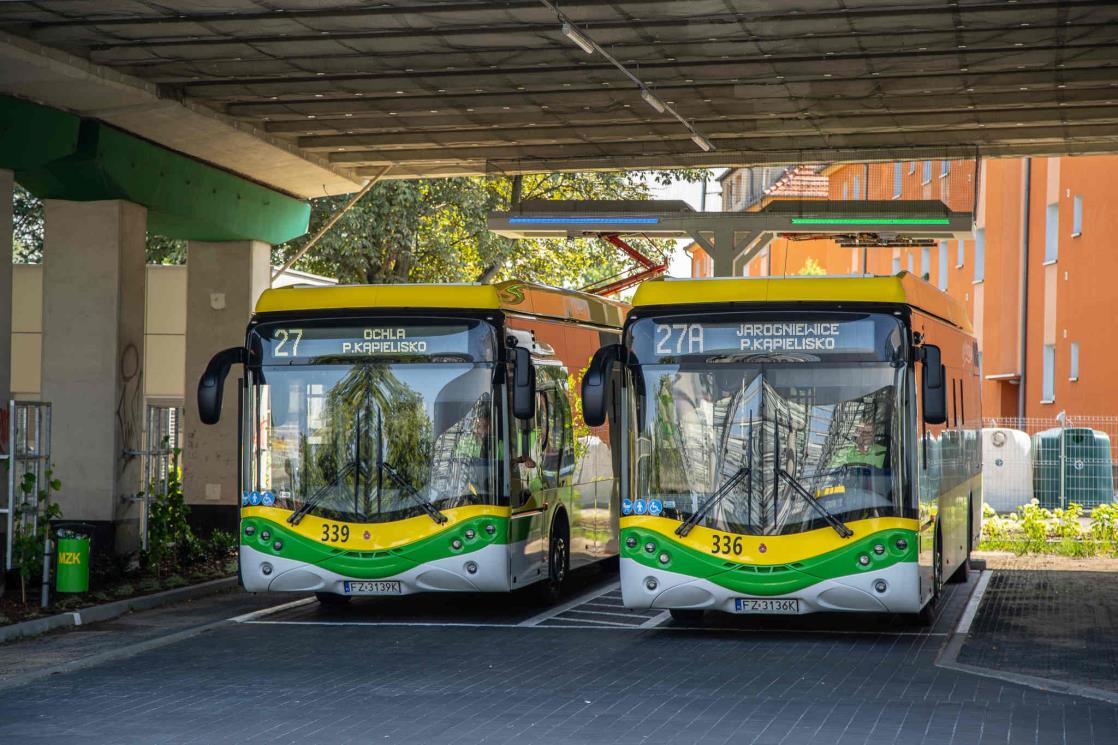 Photos provided by the Municipal Transport Department in Zielona Góra
DYSTEN has experience in supporting innovative projects. We encourage you to contact us in all matters related to the construction of efficient systems of visual and voice passenger information and monitoring based on our production systems. The company helped develop the concept of passenger information at many facilities such as transfer centers, bus and train stations – it is worth following the implementations in cities and railways, available at https://railway-displays.com
Enquiry       Other portfolio       Amber LED boards
Enquiry       Other case study       RGB LED boards       Passenger Information