One Display – Multiple Opportunities. Dynamic Passenger Information Boards at Transfer Centers and Transportation Hubs
Introducing new solutions for the infrastructure of interchange points and transportation hubs is a step towards more efficient and sustainable urban transport. Nowadays, easily accessible and clear information for travelers is an important aspect of improving urban mobility.
Addressing the growing needs
The 3in1 Passenger Information Board is an answer to the dynamically growing needs of passengers who use public transport systems. The device supports the developing infrastructure, and by providing comprehensive information, the board promotes the effective use of public transport and contributes to the creation of modern urban space.
The growing demand for connecting hubs poses challenges, such as ensuring efficient organization of transfers, consistent timetables, and up-to-date information for commuters. The solution is a dynamic information board that combines all these elements in one device.
The display is a great support for the managers of transfer centers, enabling smooth traffic management and providing personalized services to travelers. This way, flexible planning and choosing the optimal means of transport will become easier than before.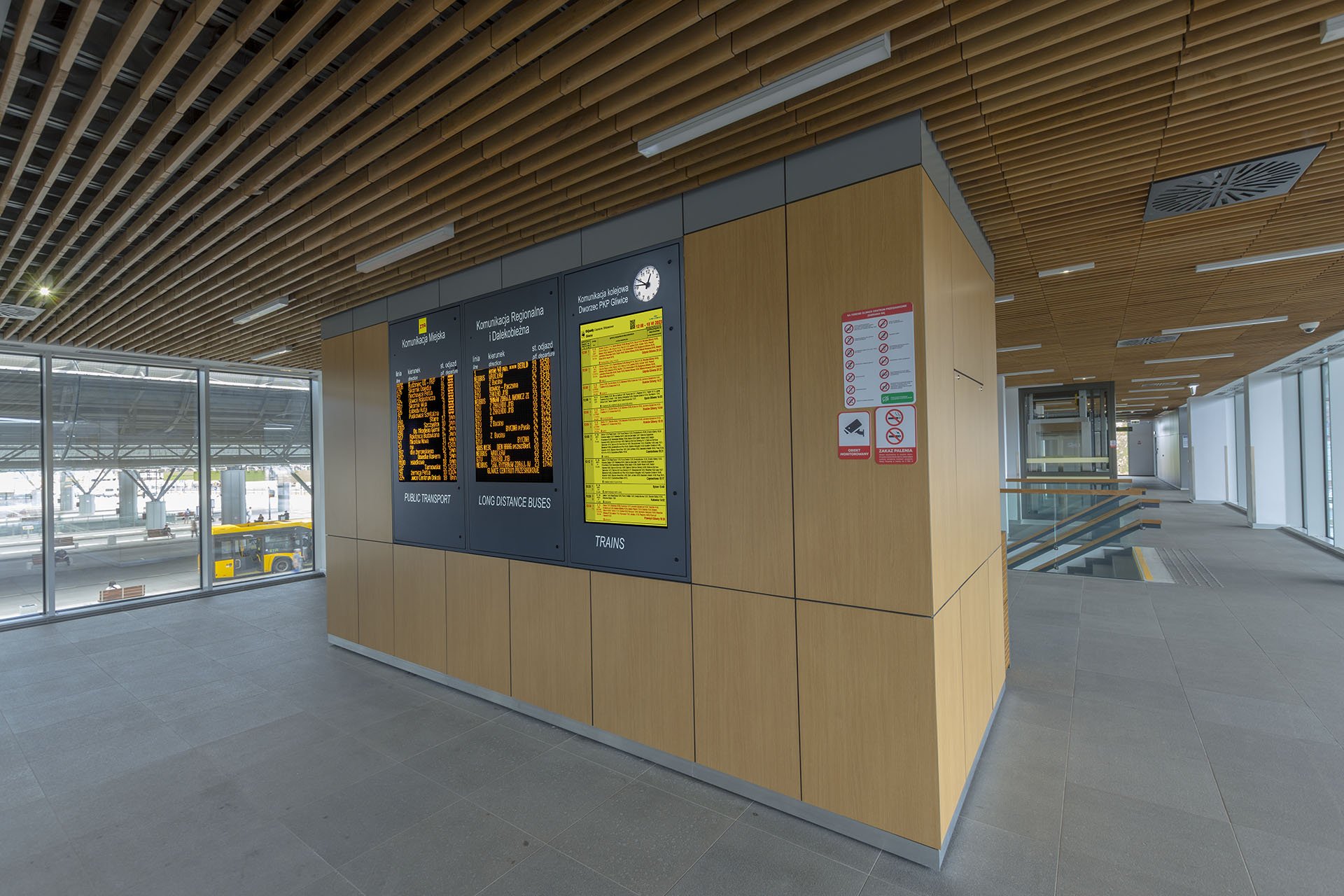 Dynamic Passenger Information in one place
The 3in1 Passenger Information Board, created by Dysten, is a solution dedicated to transfer centers and transportation hubs. Thanks to three modules presenting the timetables of different modes of transport, passengers can find complete information on availability, routes, delays, and other important aspects of their journey in one place. This enables faster and easier selection of the most effective means of transport at any given point in time.
Versatility and functionality
Due to extensive customization options, the device can be adapted to different project specifications. The flexibility of choosing among LED RGB, LED AMBER, and LCD TFT technologies opens the door to creating a personalized solution. What is more, there is also an option to combine these technologies or focus on one, depending on individual preferences.
The 3in1 Passenger Information Board can serve not only as a source of passenger information but also as an urban information display, creating a coherent communication space. Thanks to the LCD display, users have the opportunity to watch various content, such as videos or graphics, which complement the provided information in a visually attractive way. It is a solution that not only perfectly fulfills its functions, but also enhances the aesthetics of transfer centers and transportation hubs. For a detailed description of the device, please refer to the product webpage.
Personalization – option to customize display technology, size, number of rows, colors, buttons, and sensors to individual needs.
Modularity – flexibility to expand the device by adding additional displays, which makes it easier to adapt to changing requirements.
Simple Integration – easy interaction with different systems with open communication protocols for seamless integration into existing infrastructure.
High Brightness – automatically adjustable display brightness, assisted by a built-in sensor that ensures optimal reading and visibility in different light conditions.
Protection – IP54 and IK09 protection ratings, as well as sensors for breaking the glass, shock, and opening the casing that support the durability of the device even in difficult conditions.
Good Legibility – wide viewing angle and anti-reflective glass for a clear view of the displayed content regardless of the location and light conditions.
Device implementation benefits
Installation of the 3in1 Passenger Information Board in transfer centers and transportation hubs is a step towards more effective traffic management, improving the passenger experience and supporting sustainable development. Managers of interchange points can expect better transfer organization as well as optimized travel planning both for residents and tourists. This is an investment that brings multidimensional benefits to managers, cities, and local communities.
Transfer streamlining
Inform travelers about departures and arrivals of different modes of transport with one device. Make it easier for them to plan transfers by eliminating the need to search for information in different locations.
Route optimization
Reduce waiting times for travelers by providing them with quick information on upcoming stages of their journey. Minimize stress, increase traffic flow, and turn your commute into a comfortable experience.
Effective traffic management
Make traffic management easier by providing complete information. This way, the managers can optimize timetables and plan transfers according to the passengers' needs.
Modern image and future investments
Build the image of the transfer center as a modern and innovative place, attracting new business partners who are ready to cooperate.
Stimulating the use of public transportation
Encourage the use of public transport by providing clear information and enabling route optimization. Help to reduce car traffic and improve air quality.
Sustainability and accessibility
Achieve sustainability goals by increasing access to public transport and supporting the development of green infrastructure.
Investment in regional development
Attract investments that will affect the development of the entire region, due to modern transfer infrastructure. Create a positive impact on the economy and social development.
A case study – transfer center in Gliwice
3in1 dynamic passenger information boards have been implemented at the Transfer Center in Gliwice. Being an important element of the facility's infrastructure, the displays were installed on each floor of the main building and in the railway station tunnel. The boards present departures of bus lines, intercity and international connections as well as timetables of passenger trains.
Passenger information on the premises of the Interchange Point in Gliwice is designed to ensure quick and easy access for travelers. The bus stations are equipped with double-sided passenger information system boards, and two multimedia boards are installed on the platforms, enabling the presentation of any type of content. Info kiosks presenting data on train departures are located at the exit of the railway station tunnel. The whole system is a comprehensive solution for travelers, providing them with relevant information in a clear and convenient way. The passenger information system was provided by Dysten. More details on the implementation of the project can be found in the portfolio.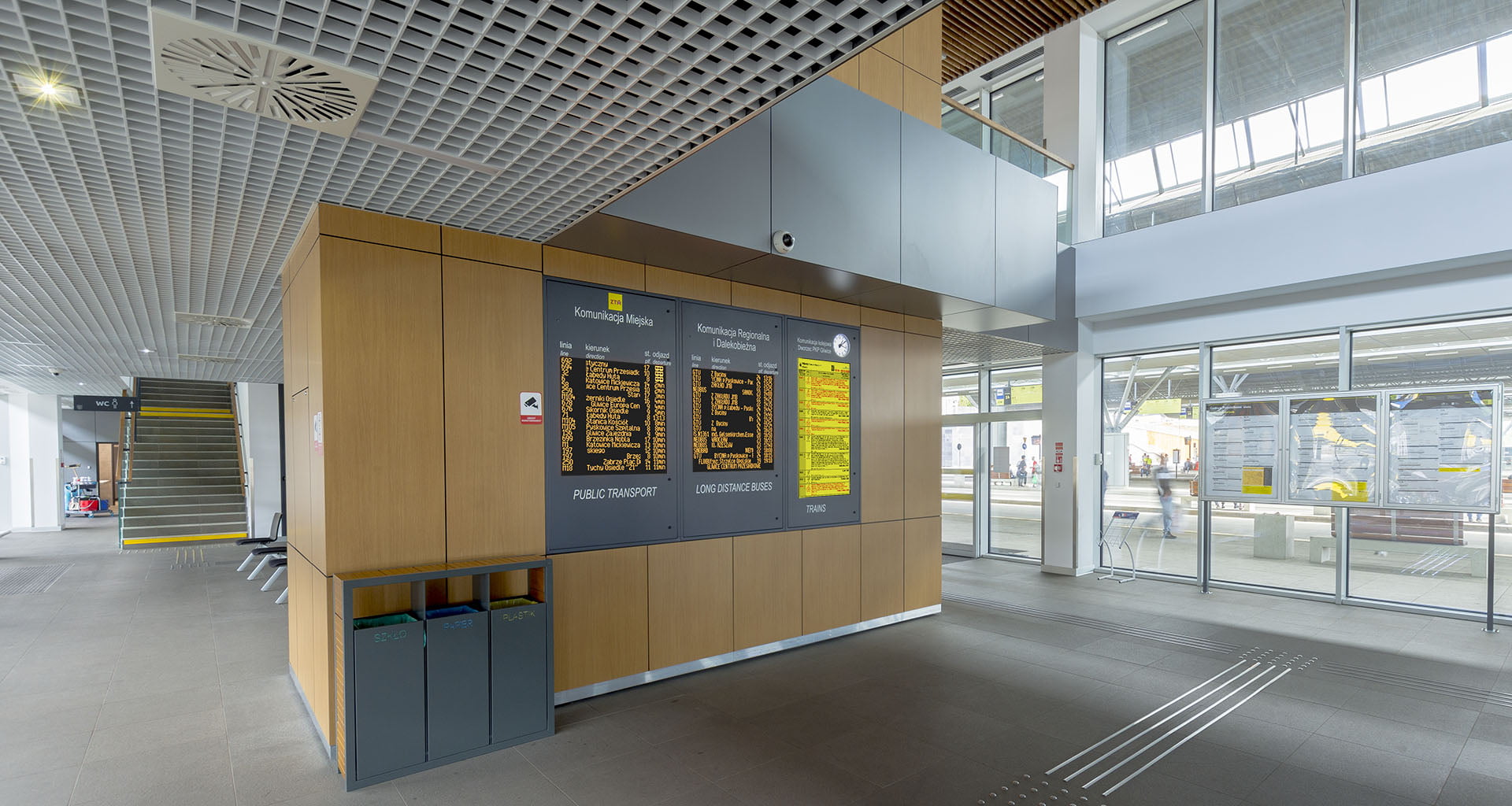 Cooperation
If you are interested in the concept of a 3-in-1 passenger information board, do not hesitate to contact us.
We will be happy to discuss the possibilities of adapting the device to the individual needs of your project. We are open to inspiring cooperation – contact us to find out how we can help you improve the comfort and efficiency of transport.
Maciej Lebioda
International Sales Representative
mobile: +48 881 963 233
e-mail: maciej.lebioda@dysten.pl