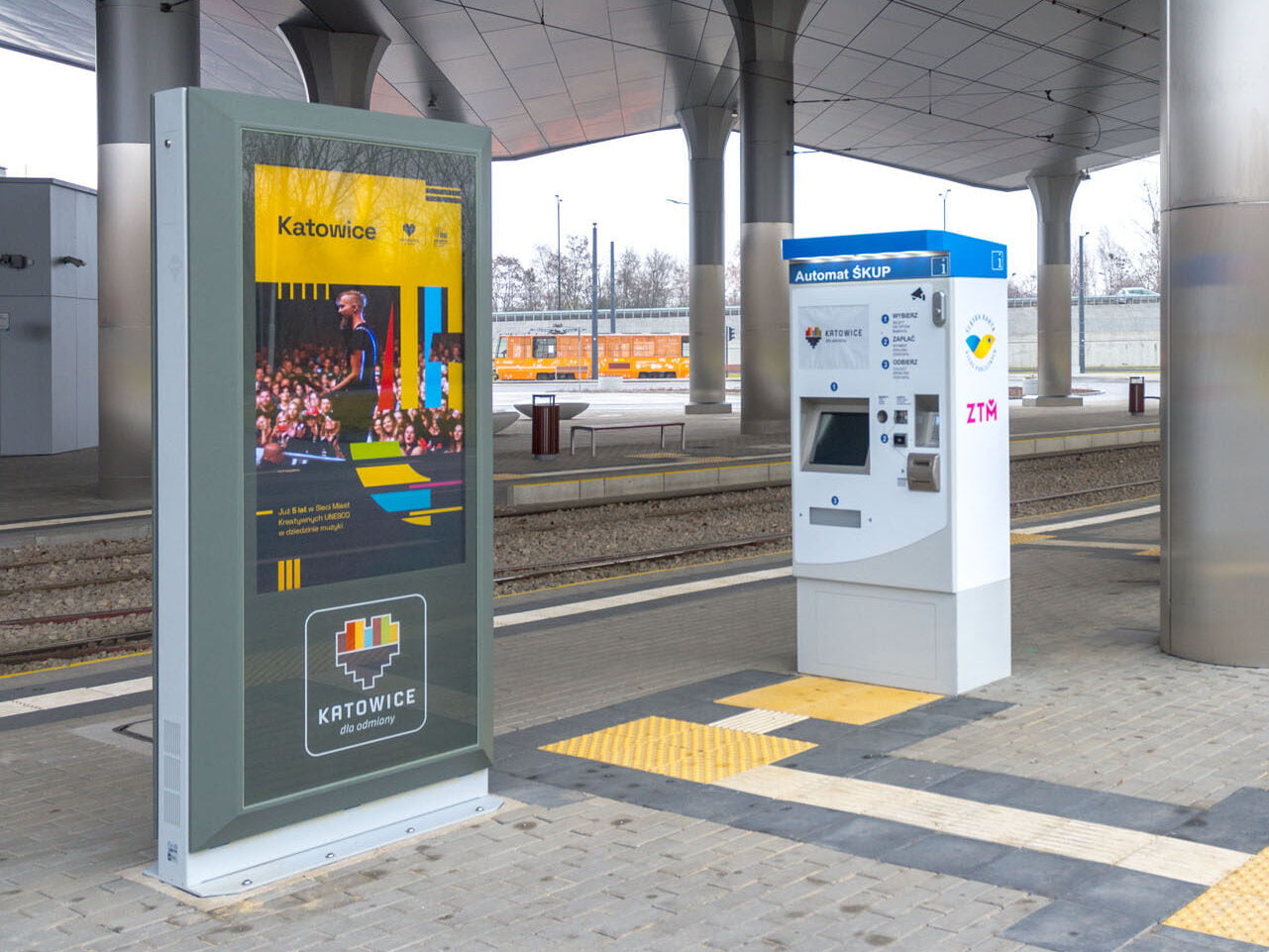 INFOKIOSKS IN A SMART CITY AS AN INTEGRAL PART OF THE MODERN URBAN LANDSCAPE
Infokiosks and information totems are versatile communication tools that play an important role in the Smart City concept. They can provide tourist and city information, display messages about local cultural and social events, and promote the use of shared services.
Infokiosks – versatility and customization
It is best to install the devices in an easily accessible and visible areas with heavy foot traffic.  They can be mounted both indoors and outdoors. Infokiosks are ready to display any content, including videos and graphics. They can be found in various locations, such as shopping malls, offices, airports, bus stations, and transfer centers. The devices are tailored to specific needs and requirements, both in terms of size, shape, and function.
Find out more about the benefits of infokiosks and information totems in:
transfer centers and train/bus stations,
city centers,
tourist destinations,
cultural and entertainment facilities.
Infokiosks at railway stations and transfer centers
Infokiosks are a modern tool that provides travelers with access to current information at bus and train stations and transfer centers. All the messages you need are available in one place. For passengers, this means that they can check timetables, possible delays, and routes.
The solution is also beneficial for transport operators. All necessary information, such as timetables or announcements, can be presented on one easy-to-read display. This means that it is no longer needed to print posters or to manually update information boards. The system allows you to quickly upload the content, which is extremely useful in the event of changes in the timetable. What is more, Infokiosks can serve as an additional source of income by displaying advertising content.
Benefits for the passengers
Time-saving – no need to search for information in various places. Now, it is available on one device.
Current information – real-time data provides passengers with up-to-date information including any changes in schedules.
Announcements and instructions – information facilitating the use of public transport services, e.g. price lists, and ticket office locations.
Benefits for the managers
Improved passenger service – effective communication with travelers translates into a better travel experience.
Modernity and aesthetics – the lack of posters and printed information makes the facilities more aesthetically pleasing.
New sources of funding – advertising content shown on displays can generate additional revenue.
Devices in transfer centers
Infokiosks and information totems are used in many transfer centers throughout Poland. Now,  travelers at the Prudnik Transfer Center can see the current timetable, air quality, temperature, humidity, and atmospheric pressure measurements on the device.
Multimedia boards ready to display city information have also been installed on the platforms of the Transfer Center in Gliwice.
Infokiosk in the city center – support for public offices and residents
Infokiosks in the city center are a tool that helps in effective communication with residents, who can now access city's most important information, such as announcements, and upcoming events, as well as practical tips on the location and available services of the public offices.
The devices save time and resources by eliminating the need to print leaflets or organize other forms of communication. Displays can be also used as digital advertising boards. This approach will allow the city to offset the costs associated with installation, maintenance, and regular upgrades of the equipment.
Benefits for residents
Easy access to information – you can quickly find relevant data, such as announcements and instructions on how to deal with official matters.
Time-saving – users receive answers to questions they might have  in one place.
Urban navigation – maps and directions on how to get to specific locations improve your way around the city.
Benefits for public offices
Better communication with residents – a communication tool that makes it much easier to convey important information.
Promotion of initiatives – promotion of urban services such as educational, recreational, and cultural programs.
Reduction of queues – by providing information online, offices can reduce the waiting time to serve the residents.
Infokiosk as tourist information
You can use the device to check sightseeing routes, and learn about local attractions, restaurants, and hotels. It is also a good way to present the city as an attractive place to visit and spend time. A map showing monuments, attractions, and the local area boosts  the interest of tourists and residents in cultural events and natural landmarks . This way, the infokiosks contribute to the support of local tourism and economic development.
Benefits for tourists
Routes and maps – easy access to sightseeing routes, maps, and information about interesting places and tourist attractions,
Weather information – up-to-date weather information which helps tourists to plan outdoor activities,
Multiple languages – access to information in multiple languages makes it easier for travelers from all over the world to use tourist services and resources.
Benefits for the city
Tourism promotion – increased interest of tourists in local attractions supports local development,
Public image of the city – the modern image of the city is conducive to positive reception by residents, tourists, and investors,
Development of new areas – promoting lesser-known attractions increases their visibility and attractiveness.
Infokiosk as cultural information for cinemas and theaters
Infokiosks in cinemas and theaters may serve as advertising and promotional space. They can be used to display advertisements for the latest productions, invitations to performances, or film premieres. This is an effective way to reach potential customers and encourage them to find out more about the cultural offer.
All the necessary information is available on one aesthetically pleasing device. Infokiosks can contribute to the development of culture and art in a given region, attracting new audiences and supporting local cultural development.
Benefits for visitors
Real-time information – keeping up to date only with the current repertoire of cinemas and theaters.
Accessibility – quick and convenient access to all the information you need on one device,
Additional content – additional multimedia content, such as movie trailers, interviews with actors, and fun facts about productions that capture the audience's attention.
Benefits for cinemas and theaters
Event promotion – accessible content attracts attention and encourages to purchase the tickets,
Visual appeal – effortless information update eliminates the need to print and cover buildings with posters,
Building the positive image – investing in modern solutions has a beneficial impact on the image of a cinema or theater, showing that they care about the comfort and satisfaction of their customers.
Development of Smart City
Infokiosks do not only provide information but also play a key role in the modernization of cities and urban services. They are part of the Smart City concept, which aims to create more friendly, accessible, and efficient places to live and work. DYSTEN actively participates in the development of modern technologies that support this vision.
If you would like to learn more about our Infokiosks and the possibilities of implementing them in your projects, do not hesitate to contact us. Our team will help you find the best solution tailored to your needs.
Artur Imbiorski
ITS Project Manager
+48 512 280 520